Welcome to Holy Martyrs Roman Catholic Church in Oreland, Pennsylvania – Founded 1949
" . . . one of the elders spoke up and said to me, "Who are these wearing white robes, and where did they come from?"  I said to him, "My lord, you are the one who knows." He said to me, "These are the ones who have survived the time of great distress; they have washed their robes and made them white in the blood of the Lamb."              -Revelation 7:13-14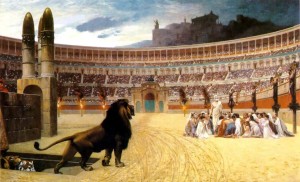 The Holy Martyrs of the Church of Rome – Our Patrons

pictured:  The Christian Martyrs Last Prayer  by Leon Gerome 
---
Archbishop Nelson. J. Pérez invites the clergy and faithful of the Archdiocese of Philadelphia to join in a novena in preparation for the Solemnity of the Assumption on August 15. The special intention of this novena is for an end to the coronavirus pandemic.
Novena in Preparation for the Solemnity of the Assumption of Mary
August 6-14, 2020
Immaculate Virgin, Mother of Jesus and our Mother, we believe in your triumphant assumption into heaven where the angels and saints acclaim you as Queen of Heaven and earth. We join them in praising you and bless the Lord who raised you above all creatures. With them we honor you. We are confident that you watch over our daily lives and we ask that you intercede for us now.
[Mention your requests here, including the petition for an end of the coronavirus pandemic.]
We are comforted by our faith in the coming resurrection and we look to you for prayers and comfort. After this earthly life, show us Jesus, the blessed fruit of your womb, O kind, O loving, O sweet Virgin Mary.
Queen assumed into Heaven, pray for us.
Amen.
If possible, pray the Rosary each day of the Novena.

Take some time to Visit Our Parish Shrines
Take a walk . . .  de-stress . . . 
take time to pray and let our parish grounds be a source of peace and comfort for you.
Take advantage of the many beautiful outdoor shrines and prayer spaces on our Parish grounds,
especially the new Crucifix Shrine at the corner of Allison and Ulmer.  The Shrine, which is typical of wayside shrines seen in many European countries, was constructed by Michael Matthews of our parish as his Eagle Scout Project.  Landscaping, and the blessing and dedication, will be planned in the Fall.
We are grateful to be the recipients of this beautiful gift.
The Monument to the Veterans of the Armed Services.
Monument to the Unborn
Our Lady of Guadalupe, Patroness of the Unborn, pray for us.
The Mary Garden
Saint Francis of Assisi, pray for us.

Saint Therese of Lisieux, pray for us.
Our Lady, Queen of Martyrs, pray for us.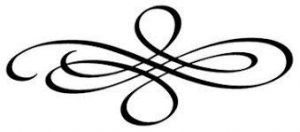 GENERAL POINTS for Mass Attendance
The obligation to attend Mass on Sundays and holy days of obligation CONTINUES TO BE LIFTED until further notice.
Please stay home if you are sick or if you have serious concerns about gatherings at this time.
Please stay home if you are at higher risk of severe illness with COVID19. If you are uncertain about your risk status, please consult your doctor and also the CDC Guidelines at the link below.
Click here to read the CDC Guidelines for those at higher risk: https://www.cdc.gov/coronavirus/2019-ncov/need-extra-precautions/people-at-higher-risk.html
Mass will continue to be available via live-stream.The list of nearly one hundred live streams was previously communicated.
BEFORE COMING TO MASS
Please wash your hands for at least 20 seconds using soap and water.
Before entering the Church, please put on a face mask or cloth covering. Exceptions to this are "children younger than 2 years old, anyone who has trouble breathing, and anyone who is incapacitated or otherwise unable to remove the cloth face covering without assistance" (CDC Guidelines).
Please do not come to Mass if you are sick or are at higher risk for severe illness with COVID19 (see above).
Missalettes and Hymnals will not be in the pews during this period. You are welcome to bring your own missal/readings with you.
ENTERING THE CHURCH
Given the layout of our church, all the entrances will be open.
Hand sanitizers will be available at the Church entrances for those who do not have their own. Please use the hand sanitizer upon entering and exiting the Church.
SEATING
When taking your seat, please honor all posted signs and cordons indicating where you may sit. No more than every third pew will be open to ensure proper social distancing.
Members of the same household may sit together as normal. Please place 6 feet between your household and members of a different household.
DURING MASS
At Masses during which there will be music, there will be a worship aid available as you enter. Please take it with you when you leave. Do not leave it in the pew.
There will be no collection taken up during the Offertory" Please place your gift in the baskets placed at the entrances as you enter or leave.    You may also mail your envelopes to the Rectory or drop them off. As always online Parish Giving is an option.

Please maintain a physical distance of at least 6 feet at all times.
RECEPTION OF HOLY COMMUNION
Holy Communion will be distributed at the usual time during Mass at the front of the Sanctuary. Further instructions will precede Mass. There are arrows on the floor to direct the flow of the Communion procession.
Please maintain social distancing in the Communion line. Please keep several pews between yourself and the person in front of you while in line and when returning to your pew. Please only remove your mask immediately before receiving Holy Communion.
During the Yellow Phase, the faithful are asked to receive Holy Communion in the hand.
If you wish to receive Communion on the tongue, please be at the end of the communion line.
EXITING THE CHURCH
At the conclusion of Mass, please exit the Church – maintaining a physical distance of at least 6 feet — and proceed directly to your car. Please do not congregate for any reason.
Please leave your mask on until you exit the Church.
OUR COMMITMENT TO YOU
Holy Martyrs Church will follow the guidelines from the CDC for sanitation as we resume public Masses.
To view the CDC guidelines, visit: https://www.cdc.gov/coronavirus/2019-ncov/php/faith-based.html
The Church will be sanitized following each gathering. Please consider volunteering to assist with this if you are able.
Thank you for your continued support of Holy Martyrs Church. More information will be provided as it becomes available.
God bless you.
E-MAIL NEWSLETTER COMMUNICATIONS
During these weeks of the pandemic, the Pastor has been communicating with our parishioners regularly by email.   If you know someone who is not receiving the messages, and would like to, please remind them to send their email address to holymartyrschurch@gmail.com
There are some people in the parish who do not use email.  If you know of someone  perhaps you could help them to set up an email account, or personally share the contents of these messages with them.  If necessary we might occasionally put these messages in the mail.  
Please also check in with our parish FACEBOOK pages – Church, Respect Life, and Carnival – for more information and spiritual reflections and prayers.
Also don't forget to visit our parish website www.holymartyrschurch.org for information and updates.  There you can access the weekly digital Parish Bulletin.
+ + + + + + +
Listen in this Monday to In His Sign Catholic Radio Network  WTMR  800AM   at 4:00pm
I will be the guest of Ann McGlone on her show Thy Will Be Done,  for stories of St. Philomena,  as well as my collection of Sacred Relics.   www.inhissign.com   In His Sign Catholic Radio Network, Thy Will Be Done.   Don't miss it!!!!!
You can also tune in each Friday at 11 AM Eastern  for AIM HIGH on Radio Maria   www.radiomaria.us   hosted  by Father Jason Kulczynski.   Each show is normally broadcast for two consecutive weeks.  
Radio Maria is available in our area on the website  www.radiomaria.us   or the Radio Maria App which can be downloaded for free at their website www.radiomaria.us    You can also listen to the Archives of most of the broadcasts of shows from the past 8 years.
+ + + + + + +
RELEVANT RADIO  – www.relevantradio.com      Also in our area at 640am on the radio
Bringing Christ to the World through the Media
Join all of the hosts who bring news and information, prayers and Devotions throughout the day.
Mass is broadcast daily at 1:00pm Eastern
The Family Rosary Across America at 8:00pm Eastern
+ + + + + + +
A Movie about the APPARITIONS AT FATIMA is available at:
 https://www.youtube.com/watch?v=7-Sa9zUpTQk&feature=share&fbclid=IwAR2BtaY8b2SKHaZoP9TV8usN7Uzjyr3cPRSi12VsqmEsqgTyGKa5aFxaPgI
And THE BELLS OF SAINT MARY'S is available at:
https://www.youtube.com/watch?v=APRNe_3tzdg&feature=share&fbclid=IwAR3mSAUgDnm41VzEnUOzv4T4b26E8K59gzr-XQmm7g_s6m5ic-7pPsW98hA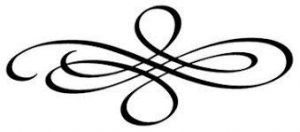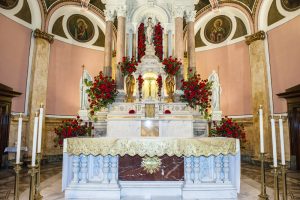 The Shrine of Saint Rita of Cascia
will celebrate the Feast of Saint Rita of Cascia on Friday, May 22nd.
Archbishop Nelson J. Pérez will serve as the principal celebrant and Reverend Michael DiGregorio, O.S.A., the Prior Provincial of the Augustinian Province of Saint Thomas of Villanova, will serve as the homilist.
Each year, thousands of pilgrims from around the world visit the National Shrine of Saint Rita of Cascia in South Philadelphia to give thanks to God and to pray for Saint Rita's healing intercession.
Mr. Jonathan Jerome, Shrine Director, said, " Now that we find ourselves in the midst of a pandemic, Saint Rita's life is as relevant today as ever before. As a daughter, a wife, a mother, a widow, and a professed religious, the unique story of Saint Rita's life offers us a beautiful example of perseverance, hope, and deep faith in the face of uncertainty, loss, and suffering. This is precisely why she is the patron saint of impossible causes!"
All are invited to virtually participate in the Solemn Feast Day Mass as well as the Solemn novena that will begin on May 13, 2020. For more information and to learn about the Solemn Novena, please click here.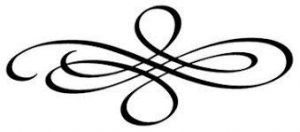 You can click on the following image to link to Holy Martyrs Parish E-giving.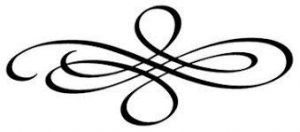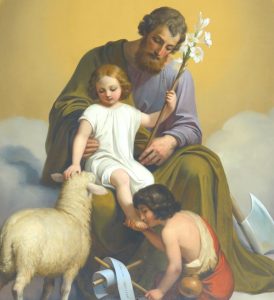 PRAYER to Saint Joseph, Protector of the Universal Church
Composed by Pope Leo XIII in 1889
Let us pray
To you, O blessed Joseph,
do we come in our tribulation,
and having implored the help of your most holy Spouse,
we confidently invoke your patronage also.
Through that charity which bound you
to the Immaculate Virgin Mother of God
and through the paternal love
with which you embraced the Child Jesus,
we humbly beg you graciously to regard the inheritance
which Jesus Christ has purchased by his Blood,
and with your power and strength to aid us in our necessities.
O most watchful guardian of the Holy Family,
defend the chosen children of Jesus Christ;
O most loving father, ward off from us
every contagion of error and corrupting influence;
O our most mighty protector, be kind to us
and from heaven assist us
in our struggle with the power of darkness.
As once you rescued the Child Jesus from deadly peril,
so now protect God's Holy Church
from the snares of the enemy and from all adversity;
shield, too, each one of us by your constant protection,
so that, supported by your example and your aid,
we may be able to live piously, to die in holiness,
and to obtain eternal happiness in heaven.
Amen.
PRAYER OF RENEWAL OF OUR CONSECRATION TO THE BLESSED VIRGIN MARY
Most Holy Virgin Mary, Mother of the Church,
you are the fairest fruit of God's redeeming love;
you sing of the Father's mercy
and accompany us with a mother's love.
In this time of pandemic we come to you,
our sign of sure hope and comfort.
Today we renew the act of consecration and entrustment carried out by those who have gone before us.
Archbishop Gomez: With the love of a Mother and Handmaid, embrace our nation which we entrust and consecrate once again to you, together with ourselves and our families.
A Bishop for his diocese: With the love of a Mother and Handmaid, embrace this diocese which we entrust and consecrate once again to you, together with ourselves and our families.
A Pastor for his parish: With the love of a Mother and Handmaid, embrace this parish which we entrust and consecrate once again to you, together with ourselves and our families.

Families, groups, or individuals: With the love of a Mother and Handmaid, embrace us as we renew our consecration to you, together with our brothers and sisters in Christ.
In a special way we commend to you
those particularly in need of your maternal care.
Mary, Health of the Sick,
sign of health, of healing, and of divine hope for the sick,
we entrust to you all who are infected with the coronavirus.
Mary, Mother of Consolation,
who console with a mother's love all who turn to you,
we entrust to you all those who have lost loved ones in the pandemic.
Mary, Help of Christians,
who come to our rescue in every trial,
we entrust to your loving protection all caregivers.
Mary, Queen and Mother of Mercy,
who embrace all those who call upon your help in their distress,
we entrust to you all who are suffering in any way from the pandemic.
Mary, Seat of Wisdom,
who were so wonderfully filled with the light of truth,
we entrust to you all who are working to find a cure to this pandemic.
Mary, Mother of Good Counsel,
who gave yourself wholeheartedly to God's plan for the renewing of all things in Christ,
we entrust to you all leaders and policymakers.
Accept with the benevolence of a Mother
the act of consecration that we make today with confidence,
and help us to be your Son's instruments
for the healing and salvation of our country and the world.
Mary, Mother of the Church,
you are enthroned as queen at your Son's right hand:
we ask your intercession for the needs of our country,
that every desire for good may be blessed and strengthened,
that faith may be revived and nourished,
hope sustained and enlightened,
charity awakened and animated;
guide us, we pray, along the path of holiness.
Mary our Mother, bring everyone under your protection
and entrust everyone to your beloved Son, Jesus Christ our Lord.
Amen.
+ + + + + + +
May the Lord bless us,
protect us from all evil,
and bring us to everlasting life.
Amen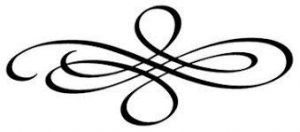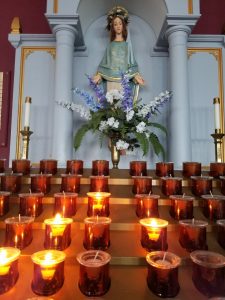 Consecration of the United States to the Protection of Mary, Mother of the Church
Message from Archbishop Nelson Perez
This Friday, May 1st, the start of the Marian Month of Our Blessed Mother, Mary, Archbishop José H. Gomez of Archdiocese of Los Angeles and president of the United States Conference of Catholic Bishops, has announced that the U.S. bishops will join the Canadian Conference of Catholic Bishops in renewing the consecrations of the two nations to the care of our Blessed Mother. I ask you to consider joining in virtually at 3:00 p.m. (EDT) on Friday for this historical and powerful moment in our united Church family.
---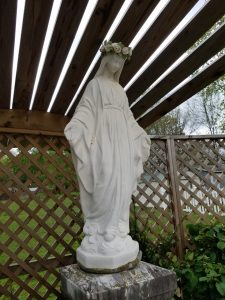 BLESSINGS ON DIVINE MERCY SUNDAY!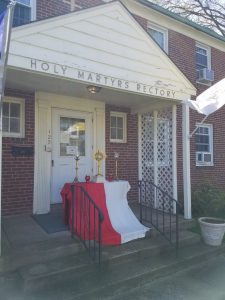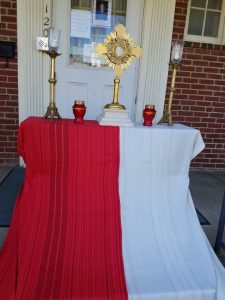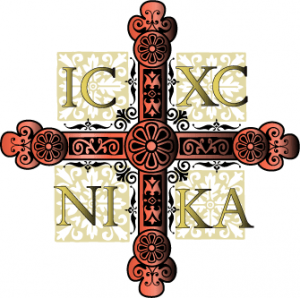 The Lord is Risen!   He is Risen Indeed!   Alleluia!
THE SEQUENCE FOR EASTER MASS
Christians, to the Paschal Victim
Offer your thankful praises!
A Lamb the sheep redeems;
Christ, who only is sinless,
Reconciles sinners to the Father.
Death and life have contended in that combat stupendous:
The Prince of life, who died, reigns immortal.
Speak, Mary, declaring
What you saw, wayfaring.
"The tomb of Christ, who is living,
The glory of Jesus' resurrection;
bright angels attesting,
The shroud and napkin resting.
Yes, Christ my hope is arisen;
to Galilee he goes before you."
Christ indeed from death is risen, our new life obtaining.
Have mercy, victor King, ever reigning!
Amen.
Alleluia.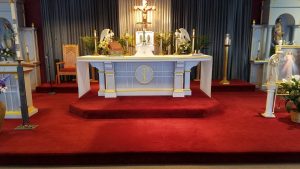 ---
Click on the RADIO MARIA banner to listen to their broadcasting.   Available in our area online or through the Radio Maria App.
11AM Eastern on Fridays – AIM HIGH  hosted by Father Jason Kulczynski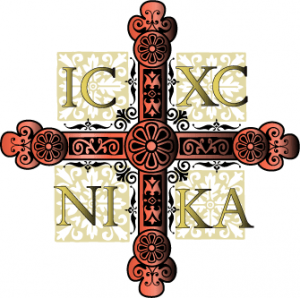 Holy Martyrs Church will be open daily from 8:00-9:00am daily for Private Prayer.
The Parish Offices will remain CLOSED until further notice.
RAYMOND CARDINAL BURKE has offered the following MESSAGE FOR THE HOLIEST WEEK OF THE YEAR
Dear Friends,
From the beginning of my service as Bishop of a diocese, it seemed that every year as the celebrations of Christmas and Easter approached, there would be a profoundly sad event in the diocese or difficult crisis to face for the good of the diocese. Just as I was anticipating with joy the celebrations of the great mysteries of our salvation, something would happen, which, from a human point of view, put a dark cloud over the celebrations and called into question the joy they inspired. Once, when I commented to a brother Bishop about this distressingly too regular experience, he simply responded: "It is Satan, trying to steal your joy."
It makes sense that Satan whom Our Lord describes as "a murderer from the beginning, … a liar and the father of lies" (Jn 8, 44) wants to hide from our eyes the great realities of the Incarnation and Redemption, wants to distract us from the liturgical rites through which we not only celebrate those truths but receive the immeasurable and unceasing graces they have won for us. Satan wants to convince us that loss and death, and the sadness and fear which naturally accompany them show Christ to be false, falsify His Redemptive Incarnation, and show our faith and the joy it naturally inspires to be a lie.
But it is Satan who is false. He is the liar. Christ, God the Son, indeed has become man, He has suffered the cruelest Passion and Death, in order to redeem our human nature, to restore to us true life, the divine life which overcomes the worst sufferings and even death itself, and brings us surely and safely to our true destiny: eternal life with Him.
Saint Paul, in the face of so many profoundly discouraging trials throughout the course of his Apostolic ministry, culminating in his martyrdom at Rome, wrote to the Christians at Colossae: "Now I rejoice in my sufferings for your sake, and in my flesh I complete what is lacking in Christ's afflictions for the sake of his body, the Church" (Col 1, 24). For him, as it should be for us, to suffer with Christ for the Church, for the love of God and our neighbor, is the unassailable and unfailing source of our joy. It is the highest expression of our communion with Christ, God the Son Incarnate, sharing with Him in the mystery of the divine love of God – Father, Son, and Holy Spirit. The life of Christ, the grace of the Holy Spirit poured forth from Christ's Heart to dwell within our hearts, inspires and strengthens us to embrace loss and death with His love which conquers them and transforms them into eternal gain and life without end. Our joy, then, is not some superficial pleasure or emotion but the fruit of love which is "strong as death," which "many waters cannot quench … neither can floods drown it" (Sg 8, 6-7).
Our joy does not take away the sharp sting of loss and death but, with confidence and courage, faces them as part of the lifelong combat of love which we are called to wage during this life – after all we are, by God's grace, true soldiers of Christ (2 Tm 2, 3) – in the sure knowledge of the victory of eternal life. Thus, at the end of his life, Saint Paul could write to his spiritual son and fellow shepherd of the flock, Saint Timothy:
For I am already on the point of being sacrificed; the time of my departure has come. I have fought the good fight, I have finished the race, I have kept the faith. Henceforth there is laid up for me the crown of righteousness, which the Lord, the righteous judge, will award to me on that day, and not only to me but also to all who have loved his appearing (2 Tm 4, 6-8).
We love Our Lord, we love the Redemptive Incarnation by which He is alive for us in Church, and thus we are joyful in fighting the good fight with Him, in staying the course, no matter what trials we face, and in keeping the faith, when the Father of Lies tempts us to doubt Christ and even to deny Him.
Satan has perhaps never had a better tool than the coronavirus for stealing our joy in celebrating the holiest days of the year, the days during which Christ won for us eternal life. How he would like to take the holiness from the one week of the year, which is known simply as Holy Week! The current international health crisis caused by the coronavirus COVID-19 continues to reap a tragic harvest of loss and death, engendering profound sadness and fear in the human heart. Certainly, Satan is using the suffering which has beset so many homes, neighborhoods, cities and nations, to tempt us to doubt Our Lord and the Faith, Hope and Love which are His great gifts to us for our daily living. The effect of Satan's murderous intent and his lies is made all the greater when we are far from the Lord, when we have taken His life within us for granted, when we have even abandoned Him as we pursue passing worldly pleasures, conveniences or successes.
In the Church herself, we have witnessed a failure to teach first Christ as Lord. How many today are suffering profoundly from a useless fear because they have forgotten or even rejected the Kingship of the Heart of Jesus in their hearts and homes. Remember the words of Our Lord to Jairus who sought His help for his dying daughter: "Do not fear, only believe" (Mk 5, 36). How many today are without hope because they think that the victory over the evil of the coronavirus COVID-19 depends totally on us, because they have forgotten that, while we must do all that we can humanly do to fight a great evil, God alone can bless our efforts and give us the victory over loss and death. It is so sad to read documents – even documents of the Church – which purport to address the most important difficulties which we face and to find in them no acknowledgment of the Lordship of Christ, of the truth that we depend completely upon God for our being, for all that we are and all that we have, and that, therefore, prayer and worship are our first and most important means of combating any evil.
Some days ago, a young adult Catholic said to me, as if it were a matter of logical fact, that he would not be celebrating Easter this year because of the coronavirus. If the joy of our Easter celebration were simply a matter of good feelings, then I understand his sentiment. But the joy of Easter is rooted in eternal truth, the victory of Christ over what clearly looked like his annihilation, the victory won in His human nature for the sake of the same victory in our human nature, no matter what hardships we may be suffering. If we believe in Christ, if we trust in His promises, then we must celebrate with joy His great work of the Redemption. To celebrate the mysteries of Christ's Passion, Death and Resurrection is not to lack respect for the suffering of so many during the present time but to recognize that Christ is with us to overcome our sufferings with His love. Our celebration is a beacon of hope for those whose lives are severely tried and invites them to place their trust in Our Lord.
Yes, Holy Week this year is so different for us. The suffering associated with the coronavirus has even led to a situation in which many Catholics, during Holy Week, do not have access to the Sacraments of Penance and the Holy Eucharist which are our extraordinary, yet also ordinary, encounters with the Risen Lord, in order that He may renew and strengthen us in His life. But it remains the holiest week of the year, for it commemorates the events by which we are alive in Christ, by which eternal life is ours, even in the face of a pandemic, a worldwide health crisis. I urge you, therefore, not to give way to the lie of Satan who would convince you that, this year, you have nothing to celebrate during Holy Week. No, you have everything to celebrate, for Christ has gone before us in every suffering and now accompanies us in our sufferings, so that we remain strong in His love, the love which conquers every evil.
Today, we celebrate Palm Sunday, when Christ entered into Jerusalem with the full knowledge of the Passion and Death which awaited Him. He knew how ephemeral was the welcome which He had received, a just welcome for the King of Heaven and Earth, but superficial because those who extended it had only a worldly understanding of the salvation which He came to win for us. They were not ready to be one with Christ in the establishment of His eternal Kingdom through the events of His Passion and Death. After Palm Sunday, each day of Holy Week is rightly called holy because it is part of Christ's steadfast embrace of His saving mission at its culmination.
Take time today to reflect on the true royal welcome which you have extended to Christ in your heart and in your home. Read again the account of His entrance into Jerusalem and of how, after His triumphant entry, he wept over Jerusalem with the words:
O Jerusalem, Jerusalem, killing the prophets and stoning those who are sent to you! How often would I have gathered your children together as a hen gathers her brood under her wings, and you would not" (Mt 23, 37).
If you or your home are far from Our Lord, remember how He desires to be close to you, to be the constant guest of your heart and home.
Remain with Christ throughout Holy Week. In a particular way, make Holy Thursday a day of profound thanksgiving for the Sacraments of the Holy Eucharist and the Holy Priesthood, which Our Lord instituted at the Last Supper. Make Good Friday a quiet day during which you undertake penitential practices, in order to enter more deeply into the mystery of Christ's Suffering and Dying. On Good Friday, be filled with gratitude for the Sacraments of Penance and of the Anointing of the Sick. On Holy Saturday, keep vigil with Our Lord, praising and thanking Him for the gift of His grace in our souls through the outpouring of the Holy Spirit from His glorious pierced Heart. Ponder especially how His grace is within you through the Sacraments of Baptism, Confirmation, and the Holy Eucharist. During all of these days, reflect upon and thank God for the gift of the Sacrament of Holy Matrimony and its fruit, the family – the "domestic Church" or little Church of the home – , the first place in which we come to know God, to offer him prayer and worship, and to discipline our lives according to His Law.
If you are unable to participate in the liturgical rites for these holiest of days, which is indeed a great deprivation, for nothing can substitute for the encounter with Christ through the Sacraments during these days, strive in your homes to be at the Sacred Liturgy through your desire to be in the company of Our Lord, especially in the mystery of His saving work. Our Lord does not expect of us the impossible, but he expects that we do the best that we can to be with Him throughout these days of His powerful grace.
There are many wonderful helps for the nourishing of such holy desire. First of all, there is rich treasury of prayer in the Church, for example: the reading of the Holy Scriptures, for instance the Penitential Psalms, especially Psalm 51 [50], and the account of the Passion of Our Lord in the four Gospels, devotion to the Sacred Heart of Jesus, meditation upon the mysteries of our faith through the praying of the Holy Rosary, especially the Sorrowful Mysteries, the Litanies of the Sacred Heart of Jesus, of the Blessed Virgin (of Loreto), of Saint Joseph, and of the Saints, the Way of the Cross – which also can be made at home by using the images of the Fourteen Stations depicted in a prayer book or on a sacred object – , the Chaplet of Divine Mercy, visits to shrines, grottos and other places sacred to Our Lord and to the mysteries of the Redemptive Incarnation, and devotion to the saints who have been powerful to help us, especially Saint Roch, Patron against Pestilences.
In our time, too, we are blessed to have access, through the communications media, to the sacred rites and to public devotions as they are being celebrated in certain churches, especially in the churches of monasteries and convents in which the whole religious community is participating. Viewing a sacred rite which is broadcasted is certainly not the same as direct participation in it, but, if it is all that is possible for us, it is surely pleasing to Our Lord Who will never fail to shower us with His grace in response to our humble act of devotion and love.
In any case, Holy Week cannot be for us like any other week but must be marked by the deepest sentiments of faith in Christ Who alone is our salvation. The sentiments of faith during these holiest of days are, likewise, sentiments of deepest gratitude and love. If your gratitude and love cannot have their highest expression through participation in the Sacred Liturgy, let it find expression in the devotion of your hearts and homes. Commemorating, with Christ, His Blessed Mother and all the saints, the events of the Sacred Triduum, we contemplate the mystery of His life within each of us. For all, time spent, each day, in prayer and devotion, meditating upon the Passion of our Lord, will help us to be with our Lord during these holiest of days in the best manner possible at this time. How much the suffering of the present time should teach us about the incomparable gift of the Sacred Liturgy and the Sacraments!
In closing, I assure you that you and your intentions are in my prayers today and will remain in my prayers throughout Holy Week and especially during the Sacred Triduum of Holy Thursday, Good Friday and Holy Saturday. May we all keep company with Christ with deepest faith, hope and love, as we celebrate these holiest of days on which He suffered, died, and rose from the dead to free us from sin and from every evil, and to win for us eternal life. May our observance of Holy Week, this year, be our strong armament in the ongoing combat against the coronavirus COVID-19. In Christ, the victory will be ours. "Do not fear, only believe" (Mk 5, 36).
Raymond Leo Cardinal Burke
5 April 2020
Palm Sunday
Please visit the Parish FACEBOOK pages for more information and spiritual reflections.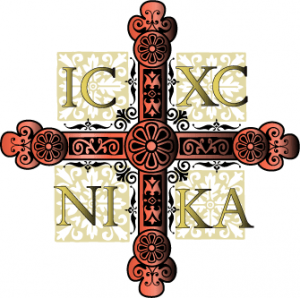 As so many people have reflected, we have entered an unexpected Lenten Desert.  Many people have spoken of renewed family prayer life   in these days, while others are experiencing the sadness of isolation.  Many of us, experiencing illness at this time are self-isolating in an abundance of caution, and charity. 

Our church will be open daily from 8:00 – 9:00 am for PRIVATE Prayer, until further notice.  If you have any symptoms, please do not come to the church.  It has also been encouraging to see people stopping to rest and pray at our outdoor shrines.  In all of this we are respectful of the abundance of the safety precautions including social distancing.
We will continue to provide on this page information and updates from the parish and the Archdiocese.  There will also be provided reflections for the Lent and Easter Season. The parish also has several FACEBOOK pages which are continually updated.

There are also here links to many celebrations of the Holy Sacrifice of the Mass.  I continue to offer Mass privately each day.  In accord with the directives of the Archdiocese in these difficult times, be assured that all scheduled Mass Intentions are being fulfilled, and Mass continues to be offered on Sundays for the People of the Parish.
Thank you to everyone who has checked in on my needs in these days, and thank you especially to everyone who has continued to support Holy Martyrs Church in these difficult days. Many people have made use of the e-giving link on this page.
Please see the new information below concerning the Virtual Lenten Retreat beginning Monday, March 30th, announced by Archbishop Nelson Perez.    That evening, and on each of the following evenings leading up to Palm Sunday, a video will be posted to Archbishop Pérez's Facebook page. At that same time each night, installments will be posted to his Instagram page as well as the Archdiocesan Vimeo Channel, the Archdiocesan website, and CatholicPhilly.com, the official digital news agency of the Archdiocese of Philadelphia.    More information at CatholicPhilly.com    
---
Archbishop Nelson J. Pérez Announces The Launch Of
"The Power Of Faith And Hope In A Time Of Uncertainty: A Virtual Lenten Retreat"
The six-day online retreat program is part of the ongoing pastoral and temporal response of the Archdiocese of Philadelphia to the COVID-19 pandemic and offers a means for the faithful to prepare spiritually for the approach of Holy Week.
Beginning Monday, March 30th I will share a video each night at 7:00 p.m. via my Facebook page. The series will extend to Palm Sunday and will include dynamic presenters from across our Archdiocese who will bring Catholic Families closer to Christ through scripture, reflection, and prayer. Six of the videos will be in English and American Sign Language and one will be in Spanish.
Please consider participating in this upcoming Lenten Video Retreat. Give this gift of hope to yourself. Christ is hope and through Him we're a people of hope. I'm praying for you during this time of uncertainty."
+Nelson J. Pérez
Archbishop of Philadelphia
---
Sunday Mass offered for the People of Holy Martyrs Church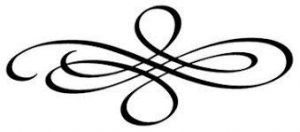 ---
Click on the picture to read the text from Pope Francis' homily for the 'Urbi et Orbi' Blessing

"Teacher, do you not care if we perish?"
In his homily during the worldwide moment of prayer that Pope Francis led this evening, he reflected on how Coronavirus has united us in our common humanity, as brothers and sisters.
---
Click on the image below to register and begin using FORMED.
FORMED is the revolutionary digital platform that gives you access to video-based study programs, feature films, audio presentations, and eBooks from the Church's foremost presenters . . .  At the parish or on the go, FORMED allows you access to the Catholic Faith.
---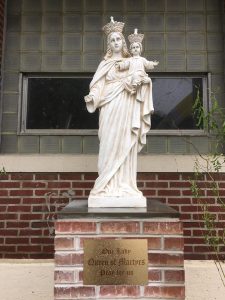 Our Lady, Queen of Martyrs, Pray for us
Traditional Latin Mass – April 5, 2017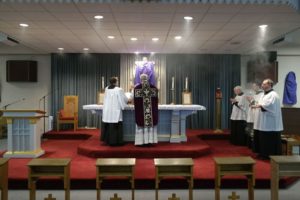 ---
The Faithful Traveler on EWTN . . .
For Information click on the picture.
---
Exposition of Sacred Relics
On All Saints Day at Holy Martyrs and other locations
Over 100 relics of the Lord and the Saints were on display on March 29, 2017.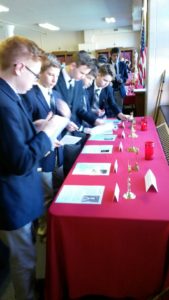 Students from Regina Luminis Academy visit the Exposition of Relics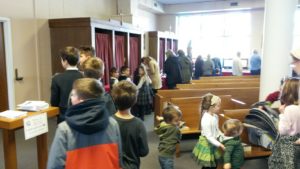 Included in the collection is a relic of the Cross of our Lord, relics from Mount Calvary and the Birthplace of our Lord. Also included are relics of the Cloak of St. Joseph, St. John the Baptist, St. Philomena, St. Francis, St. Anthony of Padua, St. Charles Borromeo, St. John Neumann, St. Katharine Drexel, St. (Mother) Teresa of Calcutta, St. John Paul II, Blessed Pier Giorgio Frassati, St. Damian of Molokai, St. Therese, Venerable Fulton J. Sheen, Servant of God Fr. Walter Ciszek, and many others.
---
          Archdiocese of Philadelphia – Launch of Project Rachel
Healing for those who suffer from the pain of Abortion
Click to view the Press Conference
---
---
View the Video of Holy Martyrs Church Groundbreaking Ceremony
---
The Study of the Sacred Scriptures
Listen to Father Peter Damian on Aim High, on Radio Maria:
Introduction to the Study of Sacred Scripture   –   Part I
The Study of Sacred Scripture  –  Part 2
---
Sincere thanks to Archbishop Charles Chaput for allowing us to bring the Altar on which Pope Francis offered Mass on the Parkway in Philadelphia in September 2015 to Holy Martyrs Catholic Church in Oreland, Pa.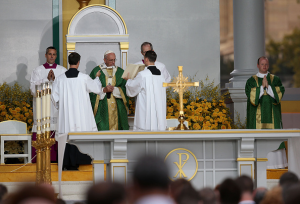 Click on the image above for images of moving the Altar to our church.
---
Vocation Videos Produced by Joyful Films
View more films at   www.joyfulfilms.com
Visit the Office for Vocations to the Priesthood of the Archdiocese of Philadelphia at
Father Stephen DeLacy, Vocation Director for the Archdiocese of Philadelphia, describes the new vocation Initiative of the Archdiocese titled, Called by Name, in the following video

---
---
Holy Martyrs Catholic Church is the home of the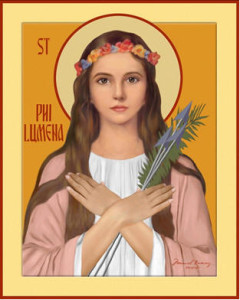 National Center of the Universal Archconfraternity of Saint Philomena in the United States
visit our website at   www.philomenafamilyusa.com
---
Visit the following links for News of the Catholic Church and Church Documents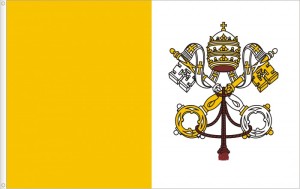 News Agency  – The World seen from Rome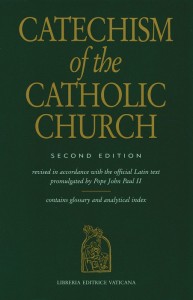 ---
Click here for information about Memorial Donations to Holy Martyrs Church
The triumphant Lamb of God, inspiration of the victorious Martyrs.
---
Tuesday, April 2 — Presentation — Father Michael Shea, C.M. Mary at the Foot of the Cross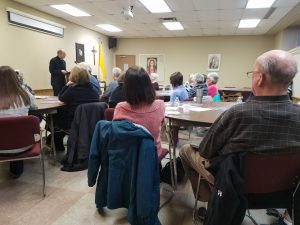 Tuesday, March 12 — Lenten Soup Supper with the Sisters of Life
Click on the pictures to link to the Sisters of Life Website